Design your pool and poolscape to coordinate with your home's architecture and the geographical area you live in. Use the overall shape, surface material, and style of your house as a guide for selecting your pool's details and shape. For example, a rustic home calls for an organic pool shape and loose plantings with a natural stone surround. Linear pool lines, paver or concrete decking, and clipped hedges may suit a formal architecture style better. Choose a landscaping style that is compatible with your region. It will blend better with the homes and landscapes in the surrounding area.

Pools can be designed with vanishing edges or surrounded by rocks, patios, and waterfalls, but the use of trees and shrubs, along with walls and arbors, can provide privacy and will shelter you from the sun in a hot, sunny climate. Use of vegetation native to your region will help to cut down on maintenance. Palm trees and tropical plants are perfect for humid, southern areas, while cacti, rockscaping and adobe walls suit desert areas. Avoid plants or trees that drop fruit, flowers, leaves, or sap. Gravel may work better as ground cover than mulch, which washes out more easily. If the pool surround area is small, simply use pots of bright colored flowers.

Provide areas surrounding your pool for entertaining, dining, or play. These areas might include a pool or guest house, a pergola-covered patio, a grilling area, or even an outdoor kitchen. For safety, a children's play area might be kept outside, but within sight of the fenced pool area. Outdoor furniture that coordinates with your overall style provides a place to enjoy a relaxing setting. Sway in a hammock on a lazy summer afternoon surrounded by tropical vegetation or put up an umbrella to shelter a luncheon or afternoon tea table. Strategically place a table and cushioned chairs for a romantic, candlelit, poolside dinner after dark. Just make sure all paths are lit well enough at night to navigate the area. And don't forget to lower the height of your vegetation if you have the luxury of an ocean, lake, or mountain view.
Inground Pool Equipment and Accessories
---
Copyright © Zeducorp.
All rights reserved.
About us
.
For your convenience, certain links will open in new windows.
Landscaping Inground Pools
Related Images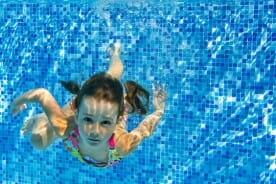 Swimming In A Swimming Pool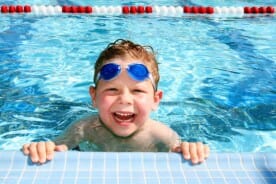 Swimming Pool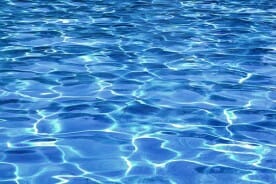 Swimming Pool Water Surface